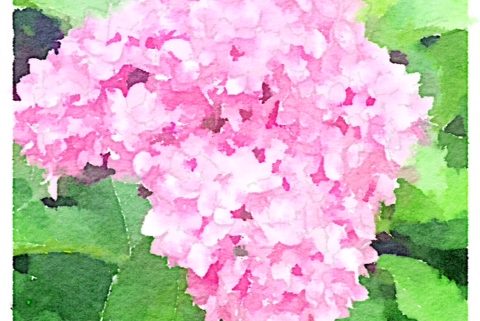 Hot! Hot!  Every day I hear something about the hot weather.  I watch the weather forecast at least once and sometimes three times a day. "Everyone talks about the weather but no one does anything about it," was contributed to Mark Twain.  However, research indicates that Charles Dudley Warner, editor at the Hartford Courant, may have used it earlier than Mark Twain.  Reference to Twain was in 1905 whereas Warner used it as early as 1889.
Regardless, we have weather all the time and we (humans) like to complain about things we have no control over.
That sounds like me!  I remember those July and August hot days in the tobacco fields.  One year, dad's rows of tobacco seemed like they were 5 miles long.  Actually, they were only about 6 blocks long.  The flowers in the top were to be removed, called topping.  In between each leaf another little tobacco plant grew which needed to be removed in order to produce quality tobacco.  Of course, many of you know removing this little plant is called "suckering."
As we began the task of topping and suckering (which I thought was crazy) it appeared we would never reach the other end of those long rows.  Looking at the other end of the row and across the field was a daunting feeling—we will never get there, so I thought.
I have since discovered if I focus only on the outcome then I miss the importance of the journey.  The journey may be difficult at times but necessary to have the desired outcome.  For   example, the weeks and months planning a vacation often brings more joy than the vacation itself.
As a church family, it's important to remember the journey (living today) is where we find the meaning of life.  A pastoral transition for churches creates anxiety and could lead to unhealthy shortcuts.  I am convinced that if we do our work appropriately, we will have the right outcome.
I needed to be reminded how important the tedious work on each hill of tobacco was for quality outcome.  Likewise, trusting the leadership of the Holy Spirit will guide us in our journey.  I am thankful to be in journey with you at this time and place.
Shalom,
Preston
https://media.myworshiptimes31.com/wp-content/uploads/sites/90/2017/07/29194947/Lane-garden-hydrangea.jpg
640
480
dseale
http://fpcrm.org/wp-content/uploads/sites/90/2017/02/fpcrockymount_logo.png
dseale
2017-07-29 13:29:39
2017-07-29 13:34:25
August 2017