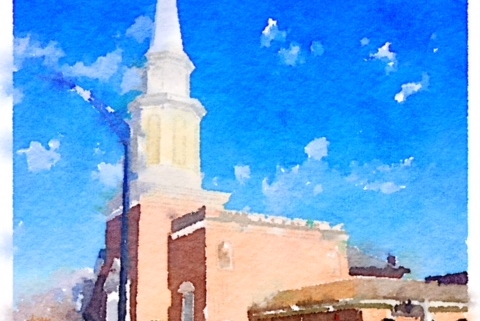 "And now for something different." (From Monty Python's Flying Circus)  The Session recently voted to initiate a Fifth Sunday Worship experience on Sunday, March 31st. What is it? It is an opportunity to experience worship in a different way. The plans for that Sunday are still in the works, but it will look something like this: We will meet in the fellowship hall at 10:00 AM on that Sunday; it will begin with fellowship for all including brunch; worship will take place at the tables; we will sing, pray, hear God's word and discuss what we can do and be to become an Inviting Church as well as a Welcoming Church. You are invited to come in casual dress for the day and bring your ideas on reaching out. The message will be presented in the form of feedback based on Scripture in which you will be encouraged to discuss the right questions about transformation.
An example of the wrong question is this: "How do we do things like the Baptists and the charismatic churches who are growing?" But rather: "How do we as a Presbyterian congregation become more open and inclusive in our worship, mission, and church life that others might be drawn into our worshiping community?" "That, detective, is the right question." (From the movie, I Robot)
We hope to plan future Fifth Sunday Worship services during the year. These may or may not be in the sanctuary. They may follow closely with our regular service or be a little different. "Don't Panic!" (From The Hitchhiker's Guide to the Galaxy) This is not an attempt to get rid of or replace the traditional service of this church with a "contemporary" one. I hope you come with an open mind, excitement about your church, and a desire for sharing the good news of God's gracious love to a hurting world. You should be expecting a call in the near future from an Elder or Deacon personally inviting you to attend!
Scott
https://media.myworshiptimes31.com/wp-content/uploads/sites/90/2019/03/29194824/steeple.jpg
640
480
dseale
http://fpcrm.org/wp-content/uploads/sites/90/2017/02/fpcrockymount_logo.png
dseale
2019-03-01 11:48:43
2019-03-01 11:49:44
March 2019