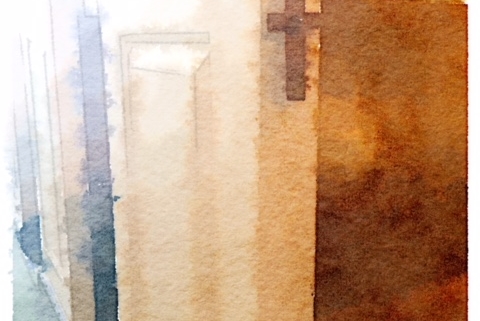 Coming To Worship
Scriptures tell us that we were created to worship and that our relationship with our awesome God is central to faith and life. We are not just a personal religion that can be practiced in secret and without interaction with fellow believers. We are the Church, the body of Christ, and individually members of the whole. Each Sunday we gather to build the body and to worship our gracious God. In worship, God is the focus, Christ is the message and the Holy Spirit is the power. It is important that before worship we prepare ourselves both as individuals and as a community of faith.
Each Monday at noon, the Brown Bag Bible study meets and focuses on the Scripture for the message on Sunday. This helps me as a preacher and those who are gathered to prepare for the next Sunday's worship.
In September, Sunday School begins again. This is also a way to prepare for worship. Often the Sunday school lesson follows the lectionary and theme for worship and gives an opportunity to discuss the topic of the day with fellow worshipers. It is also a time to get to know some folks that you share this ministry with.
As we gather for worship, it is important to "build the body" by catching up on news of your friends and welcoming visitors. Sunday morning may be the only time that some are able to interact with one another. Come a little early and gather in the narthex or in the pews and visit. And the friendliness of a church (or the lack of it) is the greatest determination of whether a visitor will return the next Sunday.
But worship begins not with announcements or the welcome by the pastor. When the prelude begins all conversation should stop and all attention should be drawn to the presence of our magnificent God. It is not "dinner music" to accompany your continued conversation. Or worse yet, an impediment to your speech so you have to talk LOUDER to be heard.
It is not simply rude to whoever is offering that part of worship, but a misunderstanding of the important role the prelude plays in gathering our attention to the one we worship. Visit, welcome new people, but also be a model for true worship. Be inspired not only by the Scripture reading and message but the wonderful music that is not there for entertainment but to draw attention to our awesome God.
Scott
https://media.myworshiptimes31.com/wp-content/uploads/sites/90/2018/08/29194857/church-pew.jpg
640
480
dseale
http://fpcrm.org/wp-content/uploads/sites/90/2017/02/fpcrockymount_logo.png
dseale
2018-08-30 10:44:45
2018-08-30 10:44:45
September 2018